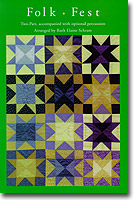 What a gold mine this medley represents! Once again, Ruth Elaine Schram works her magic and brings us every folk song you ever wanted to sing all rolled into one great, sing-along work.
The revue is created so that it can be performed in sections, or as a whole. About 20 minutes in length, the revue takes us through the life and times that shaped people and their music in everyday life. By giving each of the four sections a theme, the music takes its audiences through songs about people at work, play and the struggles of daily life. Narrative begins each section and introduces the tunes that follow in a dramatic and entertaining fashion.
Brief informative histories for each song (written by Marguerite Gervin) are included in the book to help students learn the background of each folk song, its importance in our heritage, and increase their appreciation of the genre.
The music is written and arranged so well, it practically sings itself. Everyone will enjoy this unique presentation of favorites - from the singers, who may be learning these songs of our heritage for the first time, to the adults, who will remember times when they sang these as a child. The accompaniment enhances the vocal lines and brings this work a special spark.
How to purchase music featured on this site