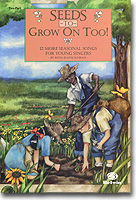 Twelve more Seasonal Songs for Young Singers, including songs for Thanksgiving, Advent, Christmas, Lent / Holy Week, Palm Sunday, Easter, Baptism, Christian Family, Mother's Day / Father's Day, and general use.

This collection (a follow-up to the popular Seeds to Grow On) will help you guide your children's choir through the entire church year. Following the liturgical calendar, this collection is filled with delightful,
age-appropriate songs for Baptism, Christian Family Sunday, Mother's Day or Father's Day, Advent and Christmas, Lent and Easter, as well as general anthems to use any time. These fun new pieces will bring joy to your choir room as well as to the congregation.

There's also an outstanding accompaniment CD available that will add depth and excitement to the entire worship experience.