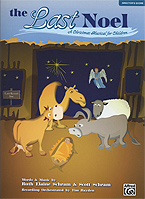 In The Last Noel the baby Jesus is born in the LAST place on earth you'd expect to find God's son - behind the LAST stable door on the left at the LAST Resort Inn. After the angel choir announces the news of the FIRST Noel - the FIRST Christmas - the animals who gather with the shepherds and the magi realize that this will not be the LAST time that all of God's creatures gather to celebrate Jesus' birth!
This delightful Christmas story is told from the animals' point of view. All of the animal characters, Donkey Jody, Cowsandra and Cowdy, Shiloh and Woolian Sheep, and Camel Lot soon realize that, despite their humble status, God has a very special place for them in Bethlehem at the Last Resort Inn!
The Last Noel is perfect for children's choirs, Christian schools or Sunday schools. Directors can expand the cast to accommodate larger groups, and the staging can be as simple or complex as you desire.
Money-saving Preview Packs featuring 1 Singer's Edition and a Listening CD provide handy aids for home rehearsal. The director's score includes keyboard accompaniment, costuming, prop and staging suggestions, dialog and vocals. The Singer's Edition features vocals, narration and dialog. A fully-orchestrated accompaniment / performance CD recording is also available.